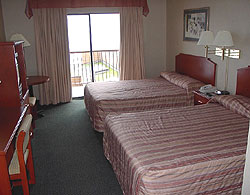 Welcome to the Anchor Inn Campbell River where the only thing we overlook is the ocean!
Relax in one of our Double Queen Suites with a deck overlooking the ocean.
Traveling with your family, and need a couple of decent beds for you and your spouse as well as your children? Then the Double Queen suite is for you. This suite is spacious and comfortable, TV, coffee maker, desk and a spectacular view of the ocean.