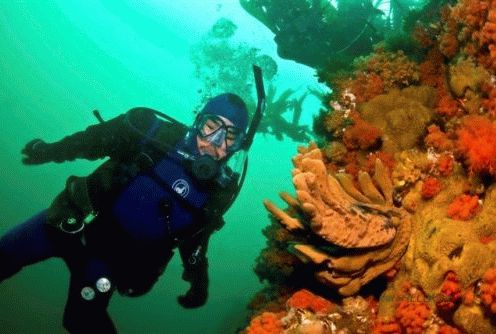 Browning Pass HideAway offers you great access to the magic of diving in British Columbia.
Sea Lions, Sea Otters, Seals, Dalls porpoise & Harbour porpoise are here year-round! Humpbacks usually arrive in May and are here until October- peaking in August to October. Orcas usually arrive in June and are here until November- peaking July to September. Dolphins usually arrive in August or September, and they usually stay through March.
The "Browning Pass HideAway" is located in the Gordon Islands, 15 miles NW of Port Hardy. This perfect location puts the resort in the midst of Queen Charlotte Strait: surrounded by great diving, protected waterways, and on the travel routes of whales and other marine mammals. This puts us within easy small boat or kayak reach of all the great local waters of Browning Pass and the Gordon Islands.
Guests may choose the comfort of the "Bunkhouse" with its large comfortable lounge and fireplace , or the 6 private rooms of the "Chalet", or the rustic and intimate "Trapper Cabin". These units together with docks and other buildings make up the "HideAway Resort". The Resort can easily accommodate individuals, couples and small groups in the privacy of one of the units. Larger groups use multiple units.
For more information please visit our website at www.vancouverislanddive.com