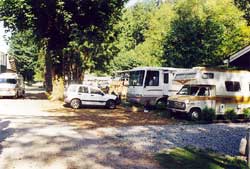 The Resort offers a quiet RV Park with some sites open year round!
There are 4 sites with partial hookups of water and power and 15 full hookup sites, including cable TV.
Our park is small and intimate.
Noise and unruly behaviour is not tolerated.
You can be sure to get a restful night's sleep.
All guests are welcome to use the pool facilities with an additional charge of $2 per person for visitors to your site.
The RV sites enjoy free hot showers and flush toilets.
Campfire rings are on all sites and wood is sold.
Pets are always welcome, but please consider leaving them at home during peak season. With a small campground the dog population can sometimes out number the guests.