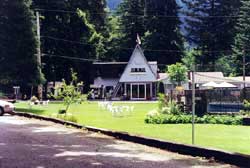 The Holiday Motel & RV Resort has a wonderful assortment of accommodations.
We offer an economy room; no frills, just right for the traveler who wants a place to lay their head.
The Resort also has kitchen units, each with two beds. The remainder of the rooms are two bedroom units with an adjoining bathroom, a total of 3 beds.
We also offer four cozy cabins.
Itís perfect for the family!
There is a payphone located in our playground area.
Whatever your vacation needs are, we will work hard to accommodate your requests.
Our goal is to have visitors enjoy a full resort experience, just as you would in a five star property, the difference is in the price!