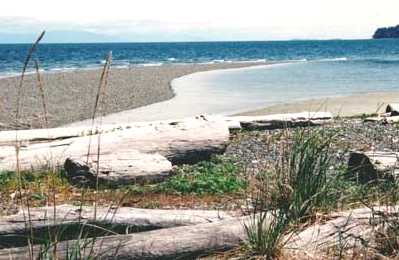 Stay in our Ocean Front Cabins and Experience the Open Sky with Spectacular Views. In just steps, you're over the logs and onto the beach!
A Variety of activities and attractions await visitors to this area, from kayaking, rock climbing, horse back riding and water slides, to garden tours and world-class golf.
Feeling adventurous? How about the magical underground world of Horn Lake Caves Provincial Park! You can explore the caves on your own, or join a tour and go with a guide. A nearby sentinel, Mount Arrowsmith offers access to superb alpine hiking and mountain climbing, mountain biking, off-road four-wheeling, and seasonal snowmobiling.
More casual adventures might prefer to explore the wilderness at any of our local parks. Only a few minutes away is "Cathedral Grove", where an interpretive trail takes us back in time, deeply into the fragrant, green stillness of an ancient, temperate rainforest. Parks at little Qualicum Falls and Englishman River Falls are sure to impress, as well.