Some people don't know that Quokka Systems also provides its Quokka Online Booking System to activity providers. Cuda Marine Adventures has used our system for two years now. Since 1996, it has been a family owned and operated business. They combine world-class wildlife sightings with the great scenery of Victoria's waterways to give their customers a special adventure.

We knew that Cuda Marine's skippers hold Transport Canada, Marine Mammal Naturalist, Power and Sail Squadron, and First-aid certifications. However, we had more dumb questions.
What kind of Whales does one see? Typically from April through October the most commonly viewed are the resident and transient Orcas. Also frequently spotted are Harbour seals, California sea lions, Dahl's porpoise, bald eagles, various other sea-bird species, Minke whales, Humpback whales.
What kind of Camera works best? Any camera with a Telephoto lens would be the best type of camera to use. Suggested for film is speed film 400, action speed; often the opportunity for pictures happens within moments. Having long lenses is good idea, because although we can view the whales from further away, the pictures don't always turn out how you remember taking them.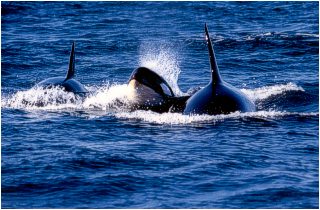 The reason why you need a long lens and fast film
Why does Victoria make a good base for Whale Watching? British Columbia is home to the highest concentration of Orcas anywhere, playing host to offshore, transient and resident whales. In the spring/summer months, the end of April to the middle of October the Orcas are feeding on the salmon just off San Juan Island, which is easily accessible by boat from Victoria.
How do you make sure the whales aren't bothered by the boats? There are suggested guidelines that have been created by a non-profit group in regards to responsible marine wildlife viewing. Our skippers respect the guidelines.
Are there restrictions on who can go in the boat? Please note that tours are not recommended for expectant mothers, those with neck or back problems or those in frail health. We also suggest that children be above the age of seven.