For a summer vacation, some folks spent time in Gold Rush country at our new client the 108 Resort and Conference Centre. In and around the resort at 108 Mile Ranch, BC you have the opportunity to golf, horseback riding, tennis, fishing, canoeing and mountain biking.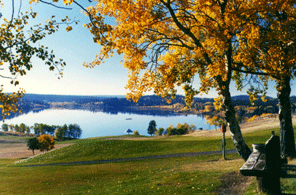 In days gone by, the 1860s to be more precise, many travellers arrived in Victoria from Europe to obtain a miners licence. Shocked by the distance remaining, those hoping to strike it rich still had to travel to the Cariboo. Some arrived on the east coast of North America, and had to travel across the continent over land, mountains, rivers, and lakes to reach the trails to gold country. A few of the travellers settled there, carving out a place that would withstand the changes in time.
One of the changes is that people come not to strike it rich but perhaps to sink an elusive putt. The 108 Resort has an 18 hole, championship golf course with fast putting greens, tree-lined fairways and everything you need through the 108 Golf Shop. This is a far cry from the 1860s when gold-hungry prospectors needed to bring everything with them on their back.
Today the 108 Resort can make your stay far more comfortable that what was available in the past.