Publication Date: 2010-09-25
When I was younger (but not that young) Google was simple. You had a web site and you repeated the name of your business a lot and your location and you made sure your special HTML tags in the website's code were kosher.
By special HTML tags, I mean your TITLE tag does not look like some sites I still see with messed up TITLE tags. The example below is an example of a currently operating accommodations business.

The problem with the tag is that Google has no clue what the page means. It therefore is not likely to be indexed or referenced by Google.
So, assuming you don't have these easy-to-fix errors on your website, life should be easy. If someone "googles" your name, you should come up, right?
Well, not so fast. Google, being the clever little critter that it is, realizes that people pretty much only pay attention to the first screen of their results page. So for any searches that involve geography -- like a business location or a search with or city or town involved -- they show a map. Now this map may not take the searcher to your web site (if you appear on it). It will try to take the searcher to a page Google owns. So it seems that Google wants to control the entire searching experience including the display of the results!
For an example, go to google.ca and put in qualicum beach resorts; take a look at what you get on the map. You may get different responses, but I see a lot of Parksville resorts.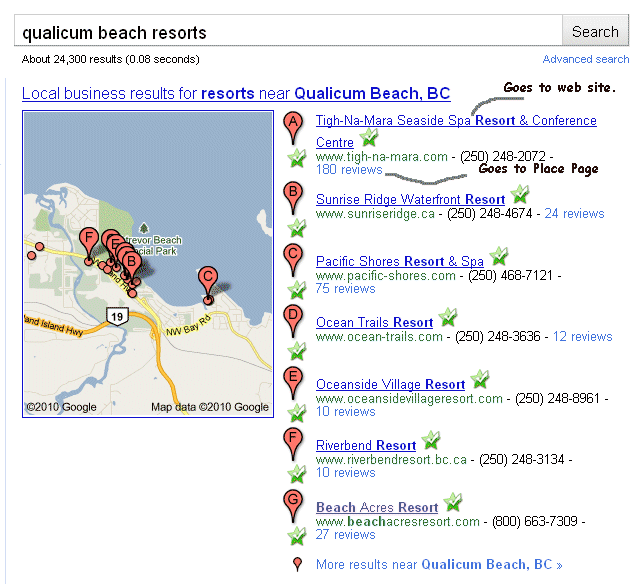 So, do these bright lights at Google not know that Parksville is not Qualicum Beach? Frankly I bet they know but they don't care. Most businesses in Parksville-Qualicum that are resorts are those on the relatively newly created Resort Drive. So, Google is assuming that the resort word in the phrase is more important. Plus, I know that some of the resort properties in Qualicum Beach have not claimed their Google Place Page. It's reasonable to assume that Google will give preference to those businesses who provide better information.
If you want to get more educated on the Google Local Search behaviour, I have some videos and more information here: Quokka Systems' Take on Google Local Search.
If you've done this search above, also notice that the entire first page of search results are Google ads or the Google Local Search results. Is anyone scrolling down further?
Some are, but people who've been relying on what are called natural results have taken a hit. Make sure to page down from the map and the ads and see who's listed.
It's worthwhile understanding Google because a large majority of your traffic to your web site starts with a Google search.
---
Robert Ford is a business owner and IT consultant based in Vancouver. Quokka Systems owns and operates a British Columbia Accommodations site and other Canadian Travel sites. Robert@quokkasystems.com
Google+ Profile